When it comes to planning a relaxing retreat or a peaceful getaway, the choice between a charming cottage house and an elegant villa is often at the forefront of decision-making. Both options offer unique advantages, each catering to different preferences and needs. In this article, we'll explore the key differences between cottage houses and villas to help you make an informed choice for your next vacation or second home.
Cottage House: Cozy Charm and Intimacy
1. Size and Space: Cottage houses are typically smaller in size compared to villas. Their compact footprint contributes to an intimate and cozy atmosphere, making them perfect for couples, small families, or individuals seeking solitude.
2. Aesthetic Appeal: Cottage houses are known for their quaint, storybook-like aesthetics. They often feature gabled roofs, dormer windows, and charming porches, creating a rustic or shabby-chic look that's inviting and endearing.
3. Cozy Interiors: The interiors of cottage houses are designed to feel snug and welcoming. Features like wood-burning stoves or fireplaces, cozy nooks, and comfortable furnishings contribute to their warmth and charm.
4. Ideal for:
Couples seeking a romantic retreat.
Small families looking for a peaceful getaway.
Individuals desiring a tranquil vacation.
5. Versatility: Cottage houses are versatile and adaptable, suitable for various lifestyles. They can serve as primary residences, vacation homes, or weekend getaways.
6. Cost-Effective: Cottage houses are often more budget-friendly than villas, making them an attractive choice for those seeking a cozy retreat without breaking the bank.
Villa: Luxury and Space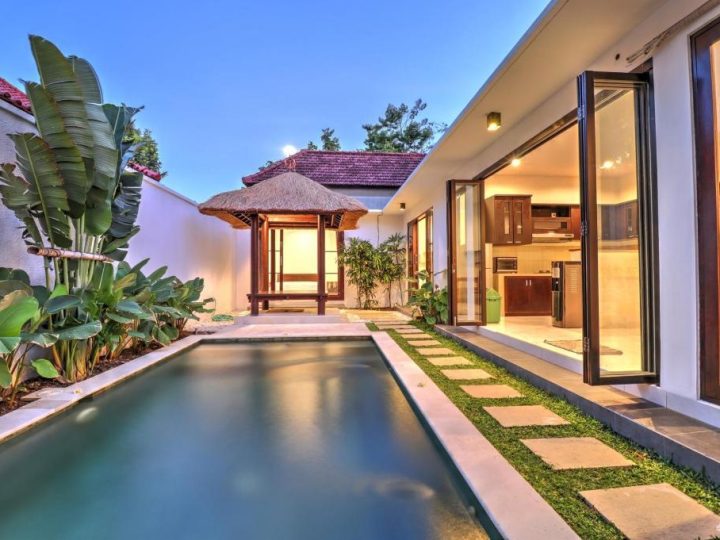 1. Size and Space: Villas are generally larger and more spacious than cottage houses. They offer generous living areas, multiple bedrooms, and ample recreational spaces, perfect for accommodating larger groups or families.
2. Elegance and Luxury: Villas are associated with elegance and luxury. They often feature high-end finishes, modern amenities, and well-appointed furnishings that offer a sophisticated and opulent living experience.
3. Ample Privacy: The larger size of villas often translates into more extensive outdoor spaces, ensuring a higher degree of privacy and seclusion. They are ideal for those who want to enjoy their retreat without disturbances.
4. Ideal for:
Extended families or groups of friends traveling together.
Individuals seeking a luxurious and spacious vacation experience.
Special occasions and events.
5. Exclusive Amenities: Villas often come with exclusive amenities such as private pools, gardens, and chef services, providing a resort-like experience within your private sanctuary.
6. Investment Potential: Villas can be attractive for those looking for potential rental income or investment opportunities in the luxury vacation rental market.
Conclusion
The choice between a cottage house and a villa ultimately comes down to your personal preferences, the size of your group, and your budget. Cottage houses offer intimate charm, while villas provide luxurious and spacious accommodations. Both options promise a relaxing and enjoyable retreat, so it's essential to consider your specific needs and desires when making your decision. Whether you prefer the cozy intimacy of a cottage or the luxurious space of a villa, your retreat is sure to provide the relaxation and rejuvenation you seek.